We have a soft and pretty color challenge this week over at the Nacho Average Challenge site:
Calypso Coral, Crisp Cantaloupe and Pistachio Pudding.
Here's my contribution:
I decided to change things up a little bit by creating a simple corner bookmark out of Pistachio Pudding card stock and adding a pretty Calypso Coral scrunchy flower.  This is a quick and simple gift idea that allows you to use up some of your paper scraps!
Here's How:
Cut Pistachio Pudding base for bookmark to measure 3" x 3".
Using the Diagonal Score Board, score at 1 ½".  Flip the base over and score other side at 1 ½". 
Fold scored corners down to form a triangle. Place a piece of scotch tape over the flaps to keep them closed.
Cut another piece of card stock to 2 1/16" x 2 1/16" and cut in half on the diagonal.  Adhere one of these triangles over the area where the two flaps meet to create a more finished look on the back.
Stamp Bordering Blooms on piece of Whisper White card stock using Crisp Cantaloupe ink.  Attach piece to the front of the bookmark.
To create scrunchy flower:
-Punch 6 flowers using the 1 ¼" Scallop Circle Punch out of card stock or Designer Series Paper. 
-Scrunch each scallop circle into a ball and then open up.  If you are using card stock, you may want to spritz the scallops with a little bit of water to help soften them up.  Let dry, and then open them up.
-Using the Paper Piercing Tool and Mat, pierce a hole in the center of each scallop circle.
-Insert a brad through each hole, forming the flower. 
-Place a small strip of Sticky Strip to the underside of the flower.  Peel off the red backing and apply to the front of the bookmark.
-Use the fringe scissors to cut fringe on a piece of card stock or Designer Series Paper.  Roll the strip and adhere the end using Tombow All Purpose Glue. Hold roll for a few seconds to let glue dry.
TIP: Be sure to place the paper all the way into the fringe scissors for cutting.  If you use the tips of the scissors, you will end up cutting the fringe off.
-Place a small amount of Tombow All Purpose Glue to the center of the flower and attach the rolled fringe.  Set aside to let the glue dry.
-Open up the fringe as desired.  Scrunch or open up the scallop circles as desired.
Be sure to check out each of the Design Team's entries to the challenge and leave a comment if you can.  It means a lot to all of us!  We'd also love for you to play along with the weekly challenges.  A Linky Tool has been added so you can upload your creation to the Nacho Design Team site. 
Supplies Used:
Stamp Set: Bordering Blooms
Ink: Crisp Cantaloupe
Paper: Pistachio Pudding, Whisper White, Calypso Coral Print Pattern Designer Series Paper
Accessories: 1 ¼" Scallop Circle Punch, Paper Piercing Tool and Mat, brad, Fringe Scissors, Tombow All Purpose Glue, scotch tape, Sticky Strip, Simply Scored Tool and Diagonal Score Board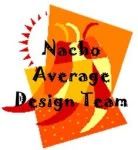 ---