Week #83, and we have a sketch challege over at the Nacho Average site.
Here's my contribution:
When I saw our sketch for this week, I immediately thought of fence posts.  So, my brain started churning on how I could incorporate a fence into my card.  Well, one thing led to another (you know how that is, right?), and I ended up getting out my paper quilling supplies to CASE (copy and share everything) a garden gate with quilled tulips card featured in one of the books that I have in my quilling library.  This book is entitled Quilled Flowers A Garden of 35 Paper Projects by Alli Bartkowski.  I learned quilling years ago from my friend and quilling expert extraordinaire, Monica Bergeron.  Quilling is one of those crafts that requires very little supplies and space, but can become so addictive!  I hope Monica is proud of my little tulip garden scene.
So the gate would have some dimension, I created each of the posts and horizontal braces by layering 3 pieces of 1/4" wide Whisper White card stock, using SNAIL Adhesive to adhere them one on top of the other.  Then I trimmed them down as needed and cut the tops to look like pickets.  I mentioned to my husband that the top of the pickets looked a little "wonky" due to my inaccurate cutting.  Bless his heart, he tells me that gates tend to become "wonky" after use and weathering.  We know this from first hand experience of course!
The tulips and leaves are made out of strips of quilling paper formed in the "marquise" shape.  The stems are also pieces of quilling paper that are laid on their edges.  The little leaves are small strips of quilling paper with just the ends curled. I used my new Fringe Scissors to cut the grass.
Here is the original sketch:
Be sure to check out each of the Design Team's entry to the challenge and leave a comment if you can.  It means a lot to all of us!  We'd also love for you to play along with the weekly challenges.  A Linky Tool has been added so you can upload your creation to the Nacho Design Team site. 
Supplies Used:
Stamp Set: Bloomin' Marvelous
Ink: Strawberry Slush, Pool Party
Paper: Pistachio Pudding, Whisper White, Blushing Bride, Gumball Green, assorted quilling paper
Accessories: quilling tool, Tombow Multi Purpose Glue, Bitty Butterfly and Scallop Circle punches, Dimensionals, rhinestones, Fringe Scissors, sponge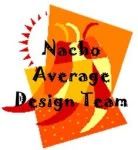 ---