Our color challenge this week over at the Nacho Average challenge site is Island Indigo, Perfect Plum and Crushed Curry.
Here is my contribution:
The Crushed Curry in the challenge reminded me of dandelions.  So, this card was inspired by all the dandelions that are in full bloom around our property.  I know dandelions are usally considered weeds, but they earned my respect after a trip my Mom and I made to Russia in the spring of 2006.  We saw yellow as far as the eye could see in fields that were covered in dandelions. It was really beautiful.  Now when I see dandelions in my own yard, it takes me back to that adventure with my Mom.
To make this card, I started by adding a couple of drops of Crushed Curry reinker into the lid of a button/brad container.  I dabbed my cut dandelion in the ink and simply stamped on a piece of watercolor paper.  As I stamped, I got these little Crushed Curry speckles coming off the petals.  So, I added a few Perfect Plum speckles by picking up ink with a pair of tweezers and then dotting the tips on the paper. 
 Be sure to check out each of the Design Team's entries to the challenge and leave a comment if you can.  It means a lot to all of us!  We'd also love for you to play along with the weekly challenges.  A Linky Tool has been added so you can upload your creation to the Nacho Design Team site. 
Supplies Used:
Stamp Set: Teeny Tiny Wishes
Ink: Perfect Plum, Crushed Curry and Perfect Plum reinkers
Paper: Crushed Curry, Island Indigo, watercolor paper
Accessories: dandelion, tweezers, button/brad container lid, Dimensionals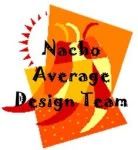 ---