Time for a fun sketch challenge over at the Nacho Average Site:
Here's my contribution:
I decided to turn the sketch on its side and create an iris fold ornament using Winter Wonderland Specialty Designer Series Paper.
Iris Folding is one of my favorite crafting techniques. 
Click here for more ideas, patterns and a video tutorial!
This  ornament is a simple circle with only 3 sections completed, allowing the "iris" in the center to be larger.  I started by punching a piece of Whisper White card stock using my 2 1/2" circle punch.  The black and white patterned designer series paper was adhered first at an angle creating a point at the top, bottom and 2 sides of the circle.  The gold and white scrolly paper was added next, then the black and white lined paper. All were lined up to meet at the same point creating a square in the middle for the gold pine cone paper.
No real pattern was used for this circle as it is a pretty simple iris fold. 
But be sure to check here for basic iris folding patterns including a circle.
As always, remember to work at the back of the piece.
Be sure to check out each of the Design Team's entries to the challenge and leave a comment if you can.  It means a lot to all of us!  We'd also love for you to play along with the weekly challenges.  A Linky Tool has been added so you can upload your creation to the Nacho Design Team site. 
Product List
Links by TheseAreMyStamps.com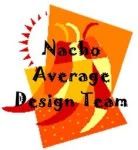 ---